 This is the headquarters of the War Thunder squadron Allied Forces. We are a dedicated and serious War Thunder unit. This is a Mil-Sim group focused on historical realism. While we do play all nations, we choose put an emphasis on allied nations for events and training. We play simulator aircraft, with a focus on the coordination between our dedicated cordination between all of our units.
Cadets/Privates that enlist into our unit, will be required to take a basic training course. After you graduate from this course, you will be assigned to a Flight Squadron depending on your preferred vehicles and timezone.
These choices are:
U.S 9th Army Air Force (NA Fighters)

U.S 8th Army Air Force (NA Bombers)

RAF 9th Squadron (EU Bombers)

RAF 41st Squadron (EU Fighters)
These Flight Squadrons do not only play what those groups used historically, but will be used to determine, if you are a fighter or bomber pilot. Whether you belong in the EU or NA division will be determined by your preferred playtime.
Wings
Within those armies, you will sign up for a wing. These are four man groups that train together on Wednesday and fight together on Saturday events. Each wing has a specialty, be it fighters, bombers, etc. for the current campaign.
These are 4 man squads.
Companies
We have wings to a company. A company is officially controlled by a captain, though Major's may take direct control. Each army group, as we grow, will have multiple companies, but has just 1 at the moment.
Training sessions
This unit has multiple weekly training sessions. You are expected to attend each one, or let us know in advance if you are unavailable. Failure to inform the officers that you are unavailable will result in marks on your service record. If you fail to regularly attend training sessions, you will be removed from Allied Forces.
Training sessions are at:
20:00 GMT (15.00 EST) Wednesday or Friday (You will enroll in either Wednesday or Friday Classes) and Aviators of War is Sunday (19:00 GMT) for all qualified pilots. for the RAF 9th Squadron, RAF 41st Squadron, and all cadets who wish to enroll into these groups
01:00 GMT (20.00 EST) Wednesday (You will enroll in either Wednesday or Friday Classes) and Saturday for the USAAF 8th Air Force, and USAAF 9th Air Force, and all cadets who wish to enroll in these groups
Fridays will be used for officer training sessions and briefings, which all enlisted officers are asked to attend, this will be at the same times as shown above.
If you cannot make practice you are asked to PM your platoon/squadron leader in advance.
Ranks
This unit is a realism unit. You will enlist as a cadet, and through your service you shall be promoted. After you pass your first training program you'll be awarded a rank. Higher ranking members will have more jobs, from commanding wings/platoons, to commanding companies, to commanding army groups! Find more info about the ranks here: [Link will be posted once available]
Training Programs
You will be required to enlist into one of these: http://alliedoperations.webs.com/
Enlisting in the Allied Forces!
To enlist please fill out an application on this site. After you do that, you will be contacted by an officer. They will set up a interview, and walk you through posting your profile on the forums, answering questions, and reading you the rules. You can join our TS, and look officers to PM you as well, if you would like to set up an interview that way.
Our TeamSpeak
TeamSpeak is publicly available, but until we get to know you, you'll be marked as [Stranger] and have to contact an officer for a chat and/or to be moved to a different channel.
TeamSpeak address: 69.65.49.248:10847
No password necessary!
Come join us today! Fly like a ww2 in warthunder!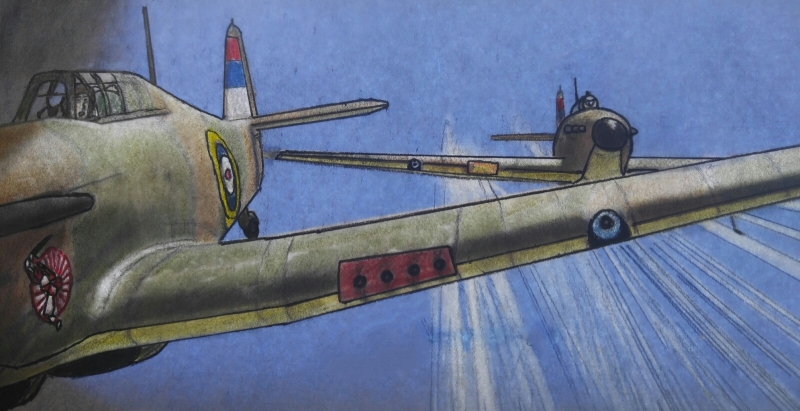 Credit to Yuugen for the image, our friend from AOW